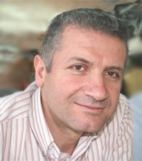 Konstantinos Saitanis
2105294466
Personal Info
CURRENT POSITION:
Associate Professor in the Laboratory of Ecology and Environmental Sciences of the Agricultural University of Athens, Greece.
FIELD OF EXPERTISE AND RESEARCH INTERESTS
Quantitative Ecology (...data processing):
Applied advanced statistics - Ecological and environmental data analysis
Population dynamics - Species association - Biodiversity measure - alpha-beta-gamma Diversity - Spatial patterns - SADIE analysis - Numerical Ecology Methods (Cluster Analysis, Principal Component Analysis, Factor Analysis, Correspondence Analysis, Discriminant Analysis, Canonical Analysis, Multidimensional Scaling, .....).
Environmental pollution (...experimental research):
Air pollutants' dynamics - Diurnal and seasonal patterns - Effects of ozone on cultivated plants and natural ecosystems - Instrumental monitoring and Phytodetection of Ozone in urban, suburban, agricultural and forest areas, using ozone bioindicator plants (Bel-W3; white clover; Centaurea juncea, ...) -Laboratory experimental studies of ozone effects on plant physiology parameters (chlorophyll fluorescence and photosynthesis, chlorophyll content, phaeophytins, carotenoids, SOD enzyme, etc.) - Urban atmospheric pollution, Biomonitoring of heavy metals in urban and industrial environments using street-belt ornamental plants and mosses bags. Mobility of radionuclides in the soil-roots-plant system
TEACHING
He teaches the following topics (to undergraduate, Master and Erasmus students):
"Ecology"
"Quantitative Ecology"
"Environmental Protection and Management"
Resent researach Projects (indicatively)
Project Leader: "Study of the effects of tropospheric ozone on cultivated plants – Protections methods". EPEAEK – "Pythagoras" Project, ELKE Code:73.00.00.24.0001.
Project Leader: "A Study of the effects of tropospheric ozone in biomass production and insect fauna composition of bioindicator plants species in Egypt and Greece". A Greece-Egypt bilateral Project. GSRT.
Project Leader: "Revitalization of urban ecosystems through vascular plants: assessment of technogenic pollution impact". A multinational (Bulgaria-Greece –Romania-Russia-Serbia-Turkey) Research Project funded by the Organization of the Black Sea Economic Cooperation (BSEC).
SELECTED PUBLICATIONS
Saitanis C.J. and Karandinos M.G. 2010. Population Ecology - Population Dynamics. Embryo Publisher, Athens, Greece. p. 470. ISBN: 9789608002265 (In Greek language)
===========
Saitanis C., Frontasyeva M.V., Steinnes E., M.W. Palmer, Ostrovnaya T.M., Gundorina S.F. 2012. Spatiotemporal distribution of airborne elements monitored with the moss bags technique in the greater thriasion plain, Attica, Greece. Environmental Monitoring And Assessment (DOI: 10.1007/s10661-012-2606-0)
Palyvos, N.E., N.G. Emmanouel, and C.J. Saitanis. 2008. Mites associated with stored products in Greece. Experimental and Applied Acarology 44:213–226.
Riga-Karandinos, A.N., and C.J. Saitanis. 2005. Comparative Assessment of Ambient Air Quality in two typical Mediterranean Coastal Cities in Greece. Chemosphere 59:1125-1136.
Saitanis, C.J. 2003. Background ozone monitoring and phytodetection in the greater rural area of Corinth – Greece. Chemosphere 51(9):913-923.
Saitanis, C.J., A.N. Riga-Karandinos, and M.G. Karandinos. 2001. Effects of ozone on chlorophyll and quantum yield of tobacco (Nicotiana tabacum L.) varieties. Chemosphere 42(8): 945-953.
Saitanis, C.J., and M.G. Karandinos. 2001. Instrumental recording and biomonitoring of ambient ozone in Greek countryside. Chemosphere 44:813-821.